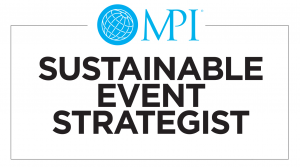 Domain ​A: Strategic Planning| 4 clock hours
Cost: $305 Member/ $405 Non-Member
With the launch of the UN Sustainable Development Goals in 2015, the government and industry have refocused toward the 2030 achievement of responsible targets from poverty, hunger, and education to climate action, clean energy, and sustainable growth. These 17 goals have filtered through all levels of business, including meetings and events.
As the meeting and event industry looks for solutions to the climate crisis, plastic pollution, and other world challenges, the potential increases for our sector to be a force for good. Humans will always gather for face-to-face connection, so the challenge for today's event professionals remains—how can we plan those gatherings in ways that preserve the planet for future generations?
Through MPI's Sustainable Event Strategist Certificate Program, discover how to view the event planning process through the lens of sustainability. Learn tactical best practices for reducing the environmental impact of your events and explore how to create a culture of sustainable decision-making throughout your planning process.
Sustainability isn't just a matter of protecting the planet — it's a matter of relevance. In today's world, a robust sustainability strategy is vital for meeting your stakeholders' expectations and maintaining event credibility. In this program, learn how to plan your event with sustainability as a core value, as well as measure and share results to build stakeholder trust.
You'll Be Able To:
Articulate the business case for implementing a sustainability strategy for meetings and events
Understand the main causes, effects, and solutions to climate change
Establish a culture of sustainability within your event planning process and team
Apply pre-planning and budgeting practices to set your sustainability programs up for maximum success
Contrast various frameworks for sustainable event planning, including the EIC Sustainable Event Standards, ISO 20121, Council for Responsible Sport certifications, and the United Nations Sustainable Development Goals
Implement tactics to reduce event waste and greenhouse gas emissions
Measure, report, and share your event's sustainability results