Attack of the Killer Manel! Enhancing Speaker Diversity & Inclusion
Date: May 21, 2019
Time: 11:00AM - 12:00PM
You must be registered to participate!
1 Clock Hour | Domain G: Meeting or Event Design

It's a race against time to save your event from from…The Killer Manel! As absurd as it seems, the phenomenon of session panels populated only with men is an all-too-familiar reality for event and conference organizers. "Manels" are really a symptom of larger societal trends which, overall, result in underrepresentation of women, people of color, people of different physical capabilities and other groups in leadership roles. The session will highlight the importance of reflecting diverse viewpoints and perspectives – and demonstrate steps any meeting professional can take to ensure a proactive approach to creating a diverse and inclusive experience for all speakers.
Learner Outcomes:
Recognize the issues and circumstances which contribute to a lack of diversity among conference speakers.
Identify the components of a successful Diversity and Inclusion Policy for conference speakers.
Discuss and share proven approaches to be used to enhance diversity and inclusion among speakers for conference programs.
This Session Graciously Sponsored by Calgary Meetings & Conventions and Visit Seattle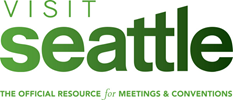 Speakers:
Molly Marsh, Director of Education and Engagement Design, AMR Management Services